CRYSTAL CITY SOUND / NCR - WATERFORD



ARCHIVES
WITHOUT CLUTTER
Crystal City Sound / NCR - Waterford
227m - 98FM
========================================================

IRISH PIRATES A / Z
SUIRSIDE RADIO - - ABC RADIO - - WATERFORD LOCAL RADIO

Crystal City Sound was first seen in AUK station lists in November 1985. In July 1985, the freq of 1332 still listed Suirside Radio. A few news items from Blackpool based AUK weekly publication THE WEEKLY REPORT, have been found and are included here from 1985, showing when Suirside changed to Crystal City.

News of Suirside closure and Crystal City Sound opening from AUK weekly newsheet.
(The complete archive of The Weekly Report is available here on this web site.)
By 1987 the station announced themselves as Crystal Radio, see recording from Steve West of 3rd July 1987. The frequencies were the same as Suirside, although at one point Crystal used 1512kHz.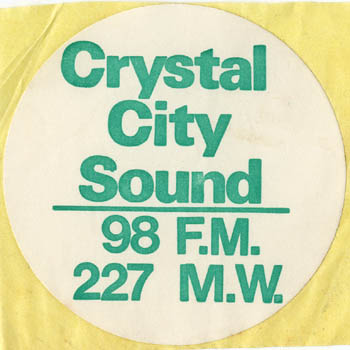 Crystal City Sound later became NCR, which was not "North XXX Radio", like many station names at the time, but a ref to the initials of the owners!! All we have from NCR is a 40m approx recording from 1988, see audio link above. NCR is listed as 1332kHz in a mid 1988 AUK frequency list.
Not much was heard of Crystal City Sound in the northern part of the UK, as their MW signal never had a powerful night time signal. But after the move to 1512kHz, a well used channel in Ireland over the years, they were noted on 8/2/87, and again on 10/2/87.
Above are a couple of Crystal City Sound mini posters, of the A5 type. Below is a letter of verification of reception in Co Cork, by fellow dxer, Ian, who was holidaying there at the time. Sadly there are no dates on the letter or the sched etc. Check out the amusing / confusing way the times are written in the sched!!! lol..

CLICK FOR THE CRYSTAL CITY PRESENTERS PROFILE AND SCHED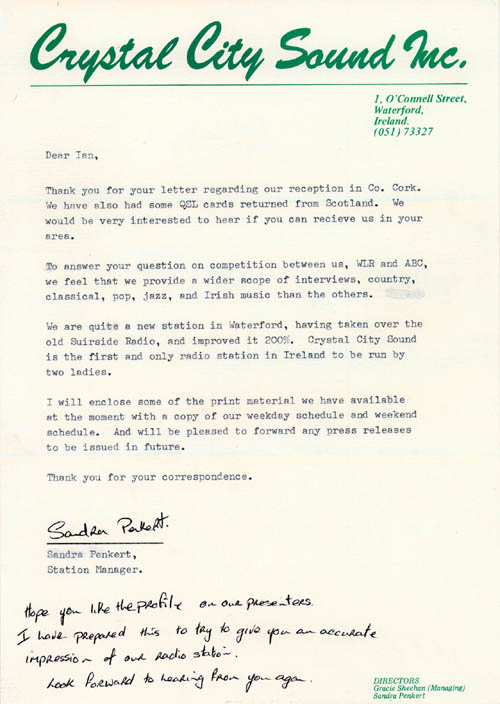 =========================================================================
Below are some photos taken by Steve West 1988 of NCR on the Quay in Waterford?? Obviously a nice view of the river from the window. The guy on air is Mike Young, who is heard on the only recording to hand of NCR, see link at top of the page..
===================================================================

IRISH PIRATES A / Z