ABC TRAMORE/ WATERFORD



ARCHIVES
WITHOUT CLUTTER
ABC TRAMORE / WATERFORD
729 - 1026 - 101- SW
========================================================

IRISH PIRATES A / Z
WATERFORD LOCAL RADIO - - SUIRSIDE RADIO - - CRYSTAL CITY SOUND/ NCR
===============

1982 VISIT TO ABC
ABC PHOTO GALLERY - 1982 - 1988
===============
(COMPLETE INDEX OF LINKS BELOW)

WELCOME TO ABC TRAMORE / WATERFORD HOME PAGE

Introduction By Glyn Roylance

From small beginnings based in a mobile home in Tramore, ABC Radio rapidly grew to become one of the most listened to and respected commercial stations in Eire. With its "clutter-free" music-based format ABC quickly won a large audience across the south-east of Ireland.
During its 7 years on air, ABC gained a reputation for innovation, and was responsible for a number of "firsts":-
It was the first station in the area to broadcast 24 hours a day
It was the first station in the area to follow a playlist to customise the station "sound"
It was the first station outside Dublin to secure agency advertising for large corporates such as Coca-Cola, Guinness etc
It was the first station in the area to utilise Orban Optimod audio processing for louder and clearer sound quality on AM and FM
It was the only known station in Ireland to experiment with AM Stereo transmissions.
During its final hours, ABC said it would be back one day. It lived up to its promise - ABC did return under new management and with a new sound for the 90's.
Glyn, 1997
=======================

1982 VISIT TO ABC
ABC PHOTO GALLERY - 1982 - 1988
HISTORY OF ABC - ANDY ELLIS 1997
ABC AS HEARD IN SCOTLAND ON 1026 AM - 1984

ABC RADIO FIRST BIRTHDAY - WATERFORD POST 15th MARCH 1983
==================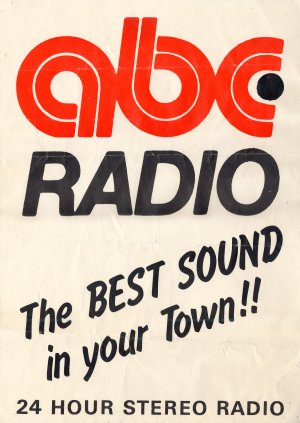 An old ABC poster. Click to expand, or below for full res jpg

CLICK FOR FULL RES JPG (1,196k)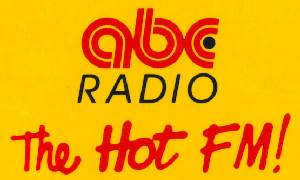 A 1988 sticker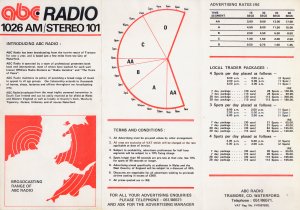 OLD LOW RES DIAL UP QUALITY SCANS THAT NEED UPDATED
========================================================

IRISH PIRATES A / Z