RADIO FAX


ARCHIVES
WITHOUT CLUTTER
======================================================
The original Radio Fax QSL Card from it's first broadcast in April 1988
Radio Fax was a UK experimental station broadcasting pre-recorded programmes of technical information. It initially transmitted for a few days in early April 1988, returning in August 1988 using a transmitter located in the Drogheda area, until legislation forced closure on 30th December 1988.
The station returned in April 1991 from another transmitter site in County Donegal, but closed on 30th September 1992. By then the station had been on 6205kHz, 3910kHz in the evenings, and 12255kHz.
| | | |
| --- | --- | --- |
| 1988_04_01_fri_fax_6220sw_airchecks-gh163.mp3 New May 2022 | A few minutes of airchecks from Good Friday 1988, which was the first day that Radio Fax was on the air. Recorded in the UK from 6220kHz, but the exact location of the receiver is unknown. Reception quality is variable. | 20MB |
Above is the QSL Card which was issued during late 1988 when the transmitter was in Drogheda.

The recordings below of Radio Fax are from late 1988 when the station was operating from Drogheda.
The same transmitter was used for both 1611kHz (night) and 6205kHz (daylight), and was automatically switched in the morning and evening.
The QSL Card above was issued when Radio Fax returned with transmitters in County Donegal, between 1991 and 1992.

The recordings below of Radio Fax are from 1991-1992 when the station was operating from County Donegal on three frequencies.
| | | |
| --- | --- | --- |
| 1992_09_02_wed_fax_6205sw_1255-1440_tommymurphy-gh270.mp3 New May 2022 | Tommy Murphy presenting his 'World of Country Music'. Tommy was heard throughout the 1980's on several stations in Ballina and the County Mayo area. Recorded near Blackpool from 6205kHz with the usual shortwave atmospherics and fading. | 85MB |
| 1992_09_14_mon_fax_6205sw_1100-1230_sparks-gh267.mp3 New May 2022 | A 'Sparks' programme with Andy Burnham. This was a show which featured media and technical news and information which was a speciality of Radio Fax. There was mention of Radio Fax closing following correspondence received from the Irish Department of Communications. Recorded near Blackpool from 6205kHz. | 83MB |
| 1992_09_23_wed_fax_6205sw_1245-1415_tommymurphy-gh274.mp3 New May 2022 | Here is another Tommy Murphy country show during which he announces an address to write to at the Communnications Department in Dublin in an attempt to keep the station on the air. There are also some phone messages from listeners which are played. Recorded near Blackpool from 6205kHz. | 86MB |
| 1992_09_24_thu_fax_6205sw_1245-1415_paulmaclaren-gh275.mp3 New May 2022 | A music show from Paul Maclaren from the final week of broadcasting, which includes some telephone messages from listeners. Recorded near Blackpool from 6205kHz. | 85MB |
| 1992_09_30_wed_fax_6205sw_1255-1425_final_programme-gh292.mp3 New May 2022 | The final programme from Radio Fax was broadcast on 30th September 1992 and repeated throughout the day. Here is a recording of 90 minutes from that day as received near Blackpool on 6205kHz. There are plenty of messages of good wishes from listeners. | 85MB |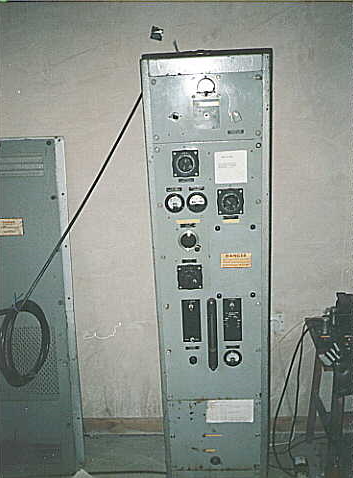 The transmitter used on 6205kHz, probably in 1991 when using 1kW.
More history and memorabilia about Radio Fax can be found at radiofax.org
======================================================