RADIO SWEDEN - HOME PAGE



ARCHIVES
WITHOUT CLUTTER
SW INTERNATIONAL BROADCASTERS INDEX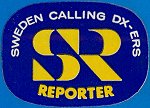 Radio Sweden from Stockholm was probably an old favourite of many radio enthusiasts world wide. Except for the usual news and views of Swedish people, and world affairs, Radio Sweden hosted two long running shows that were very popular. One of these programmes may even have extended into non dxer type people. These productions were Tuesday's weekly "Sweden Calling DXers", and "The Ssturday Show". The European edition of the Saturday show was not restricted the the 27 minutes or so that the SW service carried. The MW 1179 frequency continued from 2300 right through until 0030, with an extension of the English language Saturday Show!! Many of the jokes and gags on THE SATURDAY SHOW were at the expense of the Soviets!!!
It is such a shame that Radio Sweden itself does not even have a decent on line archive of their old Saturday shows. The station did however release a cassette tape in the 1980's, or maybe even into the 90's, see below. Note that AZ ANORAK have a few old Saturday shows on offer.
Radio Sweden closed its "radio" outlets on 31st October 2010. Unfortunately both the final English language programme as well as the final closedown of the MW transmitter were both deleted by mistake, while being over enthusiastic at deleting Perseus wideband recordings.
RADIO SWEDEN SATURDAY SHOW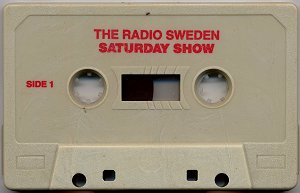 Radio Sweden Saturday show from early in 1974, rec Scotland 31m

RADIO SWEDEN AUDIO CLIPS
Radio Sweden in English 1179 10th January 2010

RADIO SWEDEN INTERVAL SIGNALS
Radio Sweden old unmistakable interval signal

Radio Sweden Interval Signal Oct 2008 from 1179 MW

SWEDEN CALLING DXERS
Sweden Calling DXers old theme inc 1981 Caroline rumour!!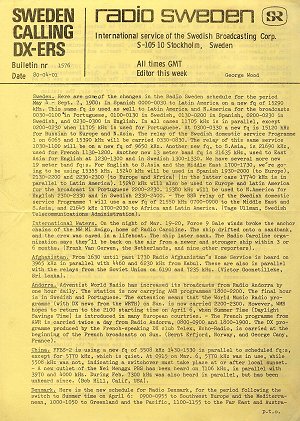 A random sample of a "Sweden Calling Dxers" bulletin from April 1980. The news included the sinking of the Mi Amigo. Click the image for a pdf of the complete bulletin. (Single sheet, double sided). These used to be mailed every couple of weeks, and eventually when the station realised they didn't have unlimited public funds to spend, every month.
They used to announce that the bulleting was sent to dx clubs, dx editors, and to those dxers who's items had been found useful for the programme. In reality, if you sent dx tips on a regular basis, the bulletins kept coming.
Originally the bulletin on the audio clip was going to be reproduced, but yhe printed version can't be found just at this time.
| | |
| --- | --- |
| | |
Posters from the 1970's approx, are reproduced here in full resolution. This is done as an attempt to preserve quality, and allow possible reprints if the jpgs are taken to a commercial printers.

WARNING: The high res versions are rather large. Resolutions are 2.9, 9,15 and 26mB
Radio Sweden Saturday show badge on the right.
======================================================================