MERSEYSIDE LBP - Merseyland Alternative Radio



ARCHIVES
WITHOUT CLUTTER

October 2019 saw the 40th anniversary of the start of Merseyland Alternative Radio, the free radio station which we believe pioneered weekend long commercial landbased pirate radio in the UK. We have searched through our archive and dug out a number of recordings and other material relating to the first two years of the station. The update of our MAR history page was spurred on not only by its 40th birthday celebration last year, but by a large number of recordings kindly supplied by Eric Monaghan. Our story here starts with details how Dxarchive came to first hear about MAR, and using recordings from the first two years shows how listeners to the station heard its history pan over the air from October 1979. Our recordings stop in August 1981, when we believe the original incarnation of MAR ceased broadcasting. The quality of the recordings varies from studio, to crackly excerpts received many miles from the transmitter. They are all included for completeness, in the three pages linked below.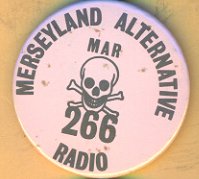 Above is some of the memorabilia produced during the first two year of the station.
The original stickers were 'extremely' green, and a few were also produced in orange.
The badges were also available in different sizes and colours.
The 'sticky' car stickers were meant for inside the window, hence the difficulty in obtaining a decent scan.
================================================
Further information and memorabilia on the history of Merseyland Alternative Radio can be found at the following web sites :


Merseypirates


The PirateArchive

Here are links to video of a Merseyland Alternative Radio tv report from around May 1981 :


https://www.dailymotion.com/video/x35dd4e

https://www.youtube.com/watch?v=qVfDsyLlii8

================================================