BOYNESIDE RADIO - NORTHERN IRELAND



ARCHIVES
WITHOUT CLUTTER
Boyneside Radio - Northern Ireland (1983? - 1988)
1233 - 101.25 / 101.35
========================================================


BOYNESIDE RADIO HOME PAGE
Boyneside Radio had an "opt out" of the main Drogheda station, which began life maybe as early as 1982, or maybe 1983. During April 1983, a visit was made to the station, and photos taken with a very small and dubious quality 110 spool camera. Later images are supplied courtesy of Steve West, taken on his travels throughout Ireland during the 80's.
It was kind of strange to find the station beyond the border post when coming from Northern Ireland, but you had not quite passed by the customs post, if memory serves.
PHOTOS FROM A 1987 VISIT TO BOYNESIDE RADIO 244

Photos of Boyneside 244 in the studio on the border with County Louth, just outside Newrey. The MW transmitter was built in the shed by the mast.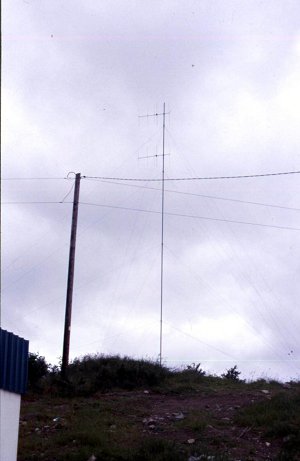 Boyneside FM mast directly above, and the AM mast above that.
========================================================

BOYNESIDE RADIO HOME PAGE