ZEE 103 - OMEATH



ARCHIVES
WITHOUT CLUTTER
ZEE 103 - Omeath, Co Louth (1986 - 1988)
103.25
========================================================

IRISH PIRATES A / Z

ZEE 103 broadcast on 103.25MHz in stereo, and was possibly the first high power FM only station to broadcast towards Ulster from County Louth. It was first heard with test transmissions in around November 1986, and for these tests was heard giving out a P.O. Box address in Armagh. This changed soon afterwards to the Co Louth address.
The station could also be heard regularly on the West coast of the U.K. ZEE 103 continued operating until 31st December 1988, when, like most other stations, it closed just prior to the new broadcasting bill becoming law.
ZEE 103 produced a four page information leaflet, which included a brief history of the station and a coverage map (369k pdf)
ZEE 103 INFO LEAFLET (369k pdf)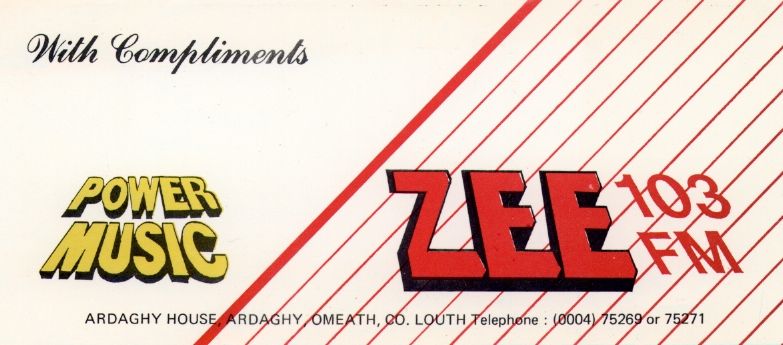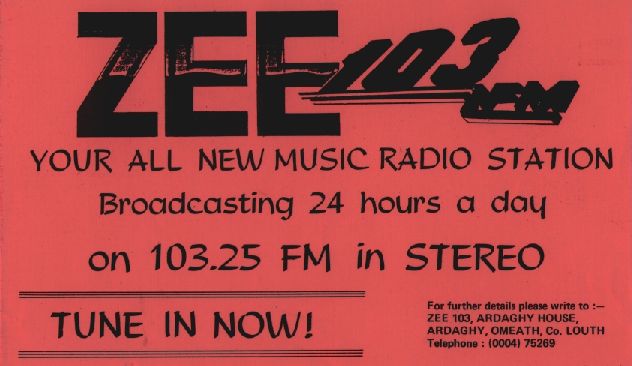 An early 103.25 flyer, and a ratecard.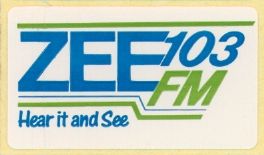 ==============================================================