RADIO WEST - MULLINGAR



ARCHIVES
WITHOUT CLUTTER
RADIO WEST - MULLINGAR, CO WESTMEATH (DATE)
1071 - 702 - 765 - 711(Galway relay)
========================================================

IRISH PIRATES A / Z
Radio West was one of the largest and longest running of the free local commercial stations which operated in the Irish Republic during the 1980's. It began around early 1982 on 1071kHz / 290 metres using homemade transmission equipment, mainly covering the area around its studio location in Mullingar. However the signal travelled quite well and even reached the UK.
With the acquisition of a 10kW MW transmitter from Radio Nova a couple of years later, and the move to 765kHz, and later the clearer 702kHz, the station began to cover much of the Midlands area, Northern Ireland and many coastal parts of the UK.
Many FM relays were added in various towns during the following few years and by 1988 the station was calling itself 'West National Radio 3' as it covered from Dublin on the East coast to Galway on the West coast. Linking like this via the FM relays, especially all the way to Dublin, would leave the station open to transmitter "hi-jackers". Whether there ever was any fun and games like this is unknown.
Radio West closed down at the end of December 1988 along with most of the unlicensed stations due to the impending legislation which came into force at midnight on 31st December of that year.


RADIO WEST AUDIO DOWNLOADS
RADIO WEST PROMOTIONAL MATERIAL
RADIO WEST PHOTOGRAPHS


A sticker from when the station was on 702kHz.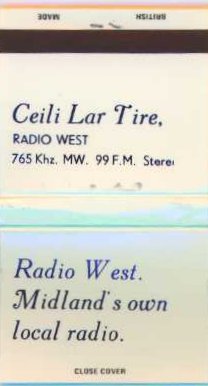 An old book of Radio West safety matches
===================================================================

IRISH PIRATES A / Z