RADIO DUBLIN, 253 - HOME PAGE



ARCHIVES
WITHOUT CLUTTER

RADIO DUBLIN - INCHICORE
AM 1188kHz 1251kHz - FM - SW 48m and later 6910 ETC
========================================================

IRISH PIRATES A / Z
At one time the longest running pirate station in Ireland, or maybe even the world. There is so much information available on Radio Dublin, we have split this page into some sort of date order.

RADIO DUBLIN PHOTOS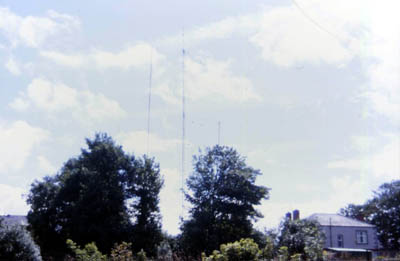 Radio Dublin from the back.
RADIO DUBLIN AUDIO
RADIO DUBLIN PROMOTIONAL MATERIAL
RADIO DUBLIN PDF DOWNLOADS
Radio Dublin History Sheets - 1976 (393k pdf)
These two early history sheets brings the Radio Dublin story up to the time when Sunday afternoons on 253m, and 227m on some evenings were the only transmissions. Full time operation was still a long way off. During this period, the station could normally be reached through the FRC address of 90 Ranelagh, Dublin, as could Radio Westside, Dr Don's station on shortwave
Radio Dublin History Sheets - 1977 (610k pdf)
These three history sheets, signed at the end by 'The Captain' give a more detailed account of the Radio Dublin story up just before the marathon broadcast of Christmas 1977, which was to lead to full seven day operation several week later. The station now not only had its own mailing address of 20 Ranelagh, Dublin, but also advertised a telephone number.
Radio Dublin History Sheets and Sched 1980 (387k pdf)
The two Page History of Radio Dublin from 1980 were received in September, and brings the Radio Dublin story up to the point when Channel 2 was is operation. The station studio during this period was between locations, as can be seen by the two seperate addresses on these history sheets. Also at this time, Radio Dublin was putting out a very powerful shortwave signal in the 48 metre band.
RADIO DUBLIN PRESS

RADIO DUBLIN OTHER
Left: A rare old photo of Captain Cooke, Debbie Moore, Doctor Don, and Prince Terry (seated). For the record, Eamon is not a Captain, Don Moore is not a Doctor, Prince Terry is not a Prince. However there is a photo of a real Queen elsewhere on this site!! Right: Dr Don is reputed to have set himself on fire for publicity in the 70s.
| | |
| --- | --- |
| | |
An old Radio Dublin club card from 1977, from the collection of Gary Hogg. Note how Radio Dublin used to also call themselves the Big D before the split.
A Radio Dublin poster, carried by free radio fans during the march in support of the pirate stations in May 1983. Click on the image for a full screen view, or click below for a 2,386k size jpg, which could be taken to a professional printers and reprinted. Actual size was 15" by 14". (inches)
Right: Radio Dublin 253 badge, image supplied by Brian Greene.
Radio Dublin poster - full size 2,386 jpeg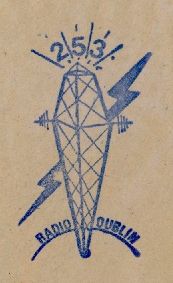 This image was stamped on the envelopes sent out to listeners in the late 1970's. Radio Dublin were obviously not frightened to advertise the fact that the letter was coming from them.