NWCR - BUNCRANA


ARCHIVES
WITHOUT CLUTTER
NORTH WEST COMMUNITY RADIO - Buncrana, Co Donegal (1986?? - 1988)
1296 - 1116 - 1008 - 1170
========================================================

PIRATE RADIO IN COUNTY DONEGAL

NORTH WEST COMMUNITY RADIO was well heard in the UK. By the time they came on the air, the Irish built transmitters had become much higher power. NWCR served a wide area with two of the AM transmitters. Initially one of them used 1008, but when KISS FM came on the air from Monaghan, they moved. One needs to look back old log books to see when and where the frequencies used were, but certainly 1116 was used as well as 1008. By the end of 1988, they were on both 1116 and 1008 again.
The station was noted on 11/1/86, and in log book, states ex 1296.
One of the A4 sheets below gives the location of the 1008 relay as Castlefin, Co Donegal.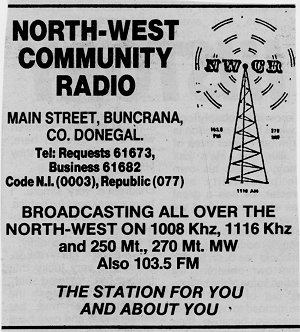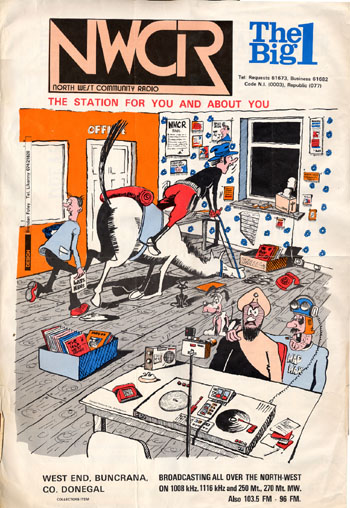 This great piece of artwork from NWCR is reproduced here in full poster size.
Click here for a full sized jpg, 4,712k
NWCR QSL letters, received by Ian from Scotland. The later letter on the right hand side was from just after the station closed down. Note the enthusiasm of the guy about getting a legal NWCR on the air. Mark Warner signed the early QSL.
Below are a few photos taken by Steve West in 1988 of NWCR.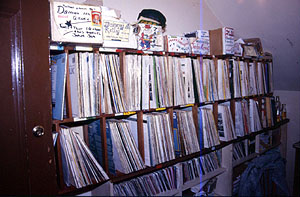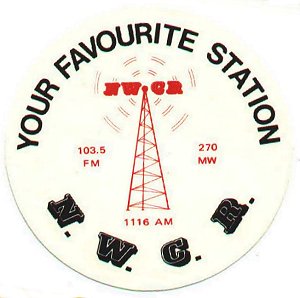 Older single MW frequency sticker
==================================================================

IRISH PIRATES A / Z

Irish Era Home Page