CAPITAL RADIO SW: Capital Radio had been a name heard on the Dublin wavebands for a number of years. This particular incarnation could be heard on the shortwave bands and first broadcast during the first half of 1981 and was operated by Aidan Hughes. The station was actually named Capital Radio International and was one of the many Irish shortwave stations operating on a Sunday morning during the 1980's. It put out a powerful signal, usually on 6268kHz, although the 1981 QSL card shown lower down this page was for the frequency of 6275kHz. For a time, Capital Radio International operated from the Radio Valleri site, where the photos here were taken.
Mike Anderson can be seen on the air in the photograph above. In the same room and to his right was the transmitter. Also note the Radio Caroline Annual lying in front of the transmitter. Many thanks to Derek Jones of Radio Valleri for the use of the photographs.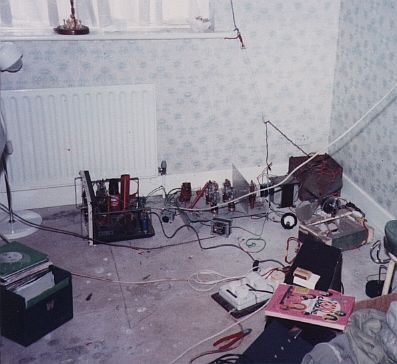 Capital Radio International was off the air for a number of years, but made a surprise return in the early 1990's. Again, Aiden Hughes operated the station initially on 6225kHz, but then returning to 6268kHz. Tragedy struck, when Aiden was involved in a traffic accident, and although he survived, it is believed he never fully recovered. He carried on broadcasting, flying the free radio flag, signing off one Sunday lunchtime as normal announcing the station would be back the following weekend. Unfortunately it never returned, as Aiden passed away during the week.