The story of KGW begins early in 1982 when Dave Simpson, Robin Ross and the late Henry Henderson decided to start a station of their own, which was a 'real alternative'. Dave had hosted free radio programmes on the original Merseyland Alternative Radio, Radio Elenore and J1000 amongst others, and was eager to continue with this. Robin Ross wanted an outlet for alternative and local music, which he had previously played on MAR, J1000 and Radio Elenore. Henry Henderson wanted somewhere to show off his talents in humerous programming to a wider audience, interspersed with local and alternative music. There was just one problem. No transmitter. The station name, KGW, was picked as Dave had a complete set of old jingles with this call sign.

Eventually, a 100 watt transmitter was located in Coventry. This had previously been used by a station called Midland Weekend Radio, and was still on top of the block of flats where it had been installed. Midland Weekend Radio was operated by a couple of deejays from the then local ILR station Mercia Sound. They had decided that not everyone wanted to listen to sports on a Saturday afternoon, and set about making amends. The station operated on both AM and FM stereo. The AM transmitter was a 100 watt valve output, with a transistor modulator. This transmitter was installed in a cabinet on the roof of some tall flats in the East part of Coventry. The power was activated automatically by the 19kHz stereo pilot tone from the 50 watt FM transmitter located at the studio. The AM oscillator was a vfo, but was extremely stable on its 1305kHz frequency. For instance, listening in Leeds, some 150 miles away, it was always exactly on the same channel as Boyneside Radio (i.e. no heterodyne). Unfortunately the deejays voices were recognised, and after a few weeks, threats of dismissal were made by their manager at Mercia Sound. As a result the station had closed by the Summer of 1982.



The transmitter with new HT transformer and on 954kHz dummy load tests during February 1983.
The transmitter (shown above during dummy load tests), was eventually obtained from the flats after some scrambling across rooftops, and taken back to Merseyside. Unfortunately it was found that the HT transformer had burned out whilst on top of the Coventry flats. Dave managed to obtain a similar one, and it was soon fitted. It had been decided to operate the new station on 954kHz, and a crystal was ordered. In the meantime, the vfo was altered to this lower channel. This frequency was fairly clear at the time, with only TTTR Radio (945kHz) from Dublin and the occasional Sunshine Radio (959kHz) from Ludlow adjacent to it. Radio Wyvern (954kHz) was not then on the air. It had been hoped to get the station on the air by September 1982, prior to the opening of the new Preston based station, Red Rose Radio. There was an idea that on the morning of its opening, a 'Red Nose Radio', would be heard just adjacent to Red Rose Radio!! Of course this was well before anyone had heard of Red Nose Day. Unfortunately things didn't go to plan. The transmitter was installed on the balcony of a flat in the centre of Southport on Lord Street (opposite the Fire Station), and a longwire aerial strung across the car park at the rear. However, for some reason that day it was not possible to use 954kHz, possibly due to Radio Jackie North appearing around that channel. At the last minute the transmitter was tuned down to 872kHz, not the best of channels, but there wasn't time to adjust it any further. The programmes were pre-recorded and were transmitted from a van a short distance away via a low power FM link. Everything appeared to be OK, and everyone went down the pub to do some monitoring. After about an hour we headed off in the car to see how the signal was travelling. Unfortunately we were to be a little disappointed. It was only managing to cover Southport, which was not very good for 100 watts!! It was decided to switch off and investigate the problem. The transmitter was taken away to be looked at, but it was most likely caused by the last minute change of frequency and not being tuned up correctly on the short aerial.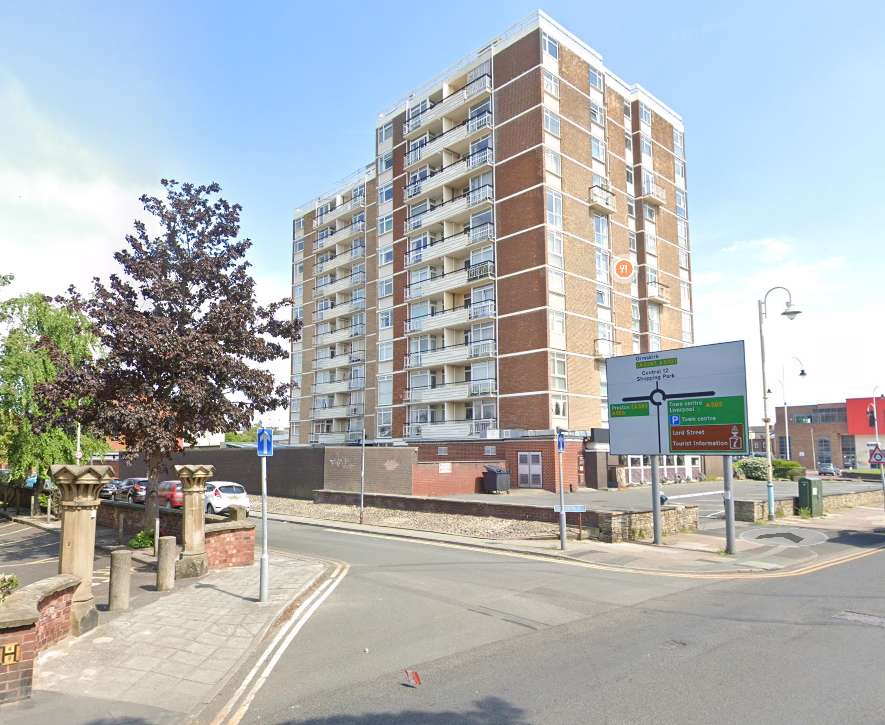 A recent image of the original flats used on Lord Street in Southport.
The 100 watt transmitter sat outside in a wooden container on one of the upper balconies
and the aerial was strung across the car park at the rear.
Recordings of KGW from Southport


1982_09_00_sun_kgw_314m_1135-1200_davesimpson_studio_recording-ds.mp3 New Apr 2023
This studio recording is of the last half hour of Dave Simpson announcing as the first day on the air, and is from the only broadcast made from the Southport flats. Dave mentions Robin Blinde, who was only ever involved in this broadcast, along with Henry being on at mid-day. In later transmissions Henry was on at 1pm. There was no frequency mentioned, just 314m, but the broadcast was actually on 872kHz. The exact date is not know, but thought to be a Sunday in September 1982 around the time Red Rose Radio Radio were testing on 999kHz. An address in Hesketh Bank was being used at this time.
65MB
29mins
To quickly get the station back on the air, the dust was blown off an old 15 watt shortwave transmitter which was converted to run crystal controlled on 1404kHz. By this time, use of the flat in Southport had been lost, and one broadcast was made from flats in Preston using this low power transmitter.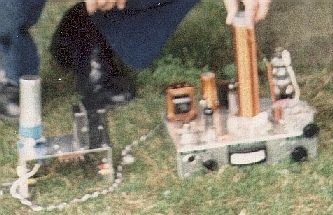 A rather grainy photo of the temporary 15 watt transmitter.



Further transmissions were abandonned until a better site was found and the higher power rig was repaired. Through a close friend of Dave Simpson, the late Bob Lewis, the use of a top floor flat of a tower block in Roughwood Drive, Kirkby, was obtained. Along with Bob, and two other Liverpool musicians, they hoped that the station would promote local music, something no other station, legal or otherwise was doing in ernest in the area at the time. By now the crystal for 954kHz had arrived and been fitted to the 100 watt transmitter. The frequencies around this channel were now clear, and the transmitter was installed in the flat in late February 1983. A longwire of around 300 feet was strung between the top floor flat, and the balcony of a flat in an adjacent block, above a row of houses in the middle.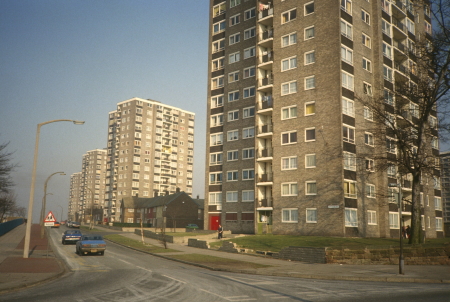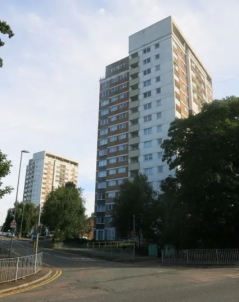 An image of the flats on Roughwood Drive in Kirkby in the 1980s, and (right) the two remaining blocks as they are today.
The 100 watt transmitter was installed on the top floor of the third block, Maple Towers (now demolished).

For security reasons it was decided to still operate an FM link, and initially this was installed in the same block as the far end of the longwire. The first test with full power went out on Saturday 5th March 1983 with good results. During the test it was discovered that the crystal supplied was slightly off-channel, and the oscillator had to be adjusted to get exactly on 954.000kHz. Full broadcasts began on Saturday 9th April 1983, with Dave Simpson, the late Bob Lewis, the late Henry Henderson, and Buzz Carter and Dawn. Robin Ross never appeared on the station after the Southport broadcast as he went across to Ireland in late 1982 to work on ABC Radio in Tramore, and by June 1983 had moved to Sunshine Radio in Dublin. In July 1983 he apparently left Sunshine Radio un-announced. There is a tale that an apology was given by Robin to Robbie Dale for having to leave suddenly, so he could travel to Santander to board the mv Ross Revenge as it was about to sail for the UK and start broadcasting officially as Radio Caroline. Robbie Dale probably understood, as he would have been doing similar clandestine trips to the mv Mi Amigo back in 1967. On 19th August Robin's voice was heard on test transmissions on 963kHz. Robin had also been on board the Ross Revenge during 1982 in the early days of the ship being fitted out when the studio looked like it was in a portacabin on the back deck.

The whole idea of KGW was to be an 'alternative' station. One thing which was very rarely played on KGW was chart music, as programme wise, Dave spun the oldies interspersed with free radio information, whilst Bob Lewis played lp tracks and oldies. Henry Henderson's show had to be listened to in full to be appreciated, as he mixed comedy clips, his own humour and alternative music for his two hours. Henry produced probably the most entertaining shows on any free radio station, and legal stations also, and a lot of time must have gone into his shows. Buzz Carter, who at the time was the keyboard player in 'The Mighty Wah', and also had his own band 'Holiday For Strings' promoted new bands and also played jazz, blues and rock, and Dawn was into her alternative music and punk rock. Finally, Harry Evans produced a unique jazz show. Harry was actually Kirkby born actor Andrew Schofield and has given mention to KGW on his own web site. An address in the early broadcasts on 954kHz / 314m was given out in Hesketh Bank, near Preston.

Recordings of KGW from 954kHz - 314m
1983_03_05_sat_kgw_954am_1600-1730_airchecks_dawn_frc_test-gh453.mp3 New Aug 2022
The first 'anonymous' test transmission from the new location in Kirkby was on Saturday afternoon 5th March 1983 and featured Dawn playing some of her punk and alternative favourites. This is a partially airchecked recording of the show as recorded from 954kHz in the Kirkby area. Dawn announced an 'FRC Test' and a postal address was given out in Hesketh Bank. The transmitter went off around 5:30pm.
23MB
25mins
1983_04_09_sat_kgw_954am_1040-1235_davesimpson_boblewis-gh466.mp3 New Aug 2022
Two hours of the first 'official' broadcast on Saturday 9th April 1983 from the flats in Kirkby as recorded on 954kHz whilst driving around Liverpool. Dave Simpson hosted the breakfast show and was followed at mid-day by Bob Lewis. The audio levels are a bit variable due to being recorded on the move.
106MB
116mins
During that first official broadcast arcing began to occur on the output capacitors at peak modulation, and on further transmissions anti corona spray was used to try and reduce this. Installing an audio limiter may have cured the problem, but in the meantime a pair of higher voltage tuning capacitors were obtained, although these were never fitted as the owner of the transmitter decided he needed it back. And so KGW was without a transmitter once again.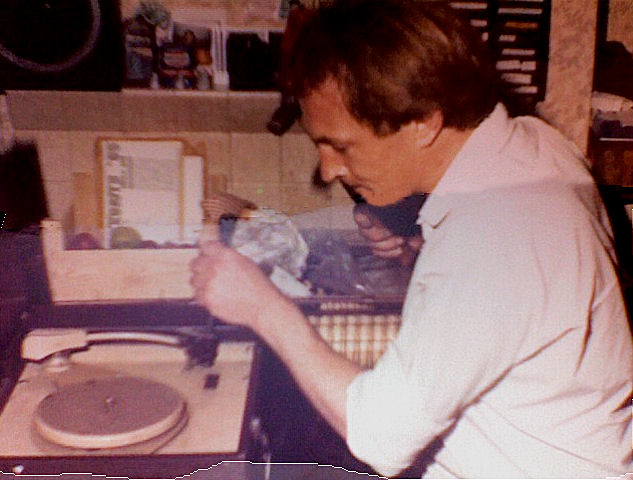 Bob Lewis makes 'slight adjustments' to the decks in Henry's studio with a hammer and chisel.

An offer was made of a high power transmitter from a company who were about to begin production of 1kW units for export to Italy. But due to hassel from the authorities this never materialised. At this point it was decided to build a new one. Diagrams were obtained from a radio amateur, and the construction began. The RF section consisted of 807's and the modulator was to be transistorised.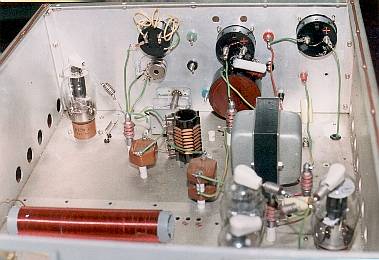 The RF section of the new 120 watt transmitter during construction,
as tuned for 954kHz, viewed from front to back.


The finished product was mounted on two chassis'. The RF section was housed in its own enclosed case which had been re-purposed from another use, and was complete with integral cooling fans. The power supply was built on an open chassis. By the time the the transmitter was ready, Radio Jackie North was operating on 945kHz or 963kHz and would have caused problems to 954kHz. Also, Radio Caroline had just dropped anchor off Essex and was about to start testing on 963kHz. Radio Leinster in Ireland had not been heard since May 1983 following the Dublin raids, so it was decided to use their former channel of 738kHz, announcing it as 399 metres. A crystal was ordered and transmitter altered to operate on this lower frequency. Everything was finally ready towards the end of the year. The modulation method initially suggested meant that the audio level was not very high, so it was decided to go back to using anode modulation. The frequency of 738kHz, meant any mal-adjustment may have created a 2nd harmonic coming out on 1476kHz, right next to BBC Radio Merseyside on 1485kHz, and so everything was designed to avoid this. KGW made a return to the air on 738kHz at 10am on Christmas Day 1983 and broadcast until around late April 1984. A new address of P.O. Box 18, Southport was used when the station returned on 738kHz. Although the RF output from the transmitter was excellent and was heard as far away as Yorkshire, the station had issues with modulation. A suitable high rated modulation transformer was never found, and as a result some transmissions sounded rather harsh, as the transformers used would either not give a full audio frequency range or handle the power. Broadcasts in January 1984 saw the best quality audio.
Recordings of KGW from 738kHz - 399m
1983_12_25_sun_kgw_738am_1000-1100_davesimpson-gh95.mp3 New Sep 2022
The opening programme on 738kHz with Dave Simpson on Christmas Day 1983. Recorded near Blackpool from 738kHz. Unfortunately the foreign signals were very strong that day, and as the recording was made at some distance (25 miles), near Blackpool, in places it is difficult to hear. The modulation is a bit low at first, and there is also some local electrical interference. This is the first hour up until the tape change at 11am.
56MB
61mins
1983_12_25_sun_kgw_738am_1100-1115_davesimpson-gh95.mp3 New Sep 2022
Following the tape change at 11am, the recording continues with Dave Simpson until 11:15am. Recorded near Blackpool.
16MB
17mins
1983_12_25_sun_kgw_davesimpson_extracts-br.mp3 New Feb 2023
Airchecks of part of Dave Simpson's Christmas Day 1983 show. These were originally edited from the studio tapes by the late Brian Robinson. Many thanks to Dave Simpson for the recording, which also helps fill in the missing gaps in the off-air recordings from that day.
14MB
6mins
1983_12_25_sun_kgw_738am_1133-1220_davesimpson_boblewis-gh95.mp3 New Sep 2022
The last half hour of Dave Simpson, then Bob Lewis takes over at mid-day. Again recorded near Blackpool from 738kHz.
43MB
46mins
1983_12_25_sun_kgw_738am_1235-1320_boblewis_henryhenderson-gh95.mp3 New Sep 2022
Bob Lewis finishes his show, and then Henry Henderson takes over at 1pm. As above, recorded near Blackpool from 738kHz.
43MB
47mins
1983_12_25_sun_kgw_1300-1400_henryhenderson_studio_recording-ds.mp3 New Sep 2022
A copy of the studio recording of Henry's first hour on the station's return using the new KGW 738kHz transmitter on Christmas Day 1983. The first 30 mins is slightly muffled. Many thanks to Dave Simpson for this recording.
70MB
60mins
1983_12_25_sun_kgw_1400-1500_henryhenderson_studio_recording-ds.mp3 New Sep 2022
A studio recording of Henry's second hour from Christmas Day 1983. Again, this recording is courtesy of Dave Simpson.
137MB
60mins
1983_12_25_sun_kgw_738am_1333-1427_henryhenderson-gh95.mp3 New Sep 2022
An hour of Henry Henderson on Christmas Day recorded from 738kHz near Blackpool. This recording includes the tape change at 2pm, where instrumental music is played to join the two halves of the show together.
50MB
54mins
1983_12_25_sun_kgw_738am_1555-1630_buzzcarter_dawn_airchecks-gh95.mp3 New Sep 2022
Some rather crackly airchecks from later on Christmas Day 1983 which are here for completeness. This recording has the end of Buzz Carter just before 4pm, the continuity music during the tape change, and then the first part of Dawn's show. The signal strength is variable as it was recorded from 738kHz on the move in the car travelling from Blackpool towards Yorkshire and the adjacent foreign stations were starting to come through.
32MB
35mins
1983_12_31_sat_kgw_738am_1500-1600_dawn_studio_recording-ds.mp3 New Apr 2023
The second hour of Dawn from Saturday 31st December 1983 with her punk show. Dawn mentions she would be on at 5pm to 7pm tomorrow (Sunday) in place of Jeff Johnson. This is a studio recording by kind courtesy of Dave Simpson.
138MB
60mins
1983_12_31_sat_kgw_738am_jeffjohnson_studio_recording-ds.mp3 New Apr 2023
Jeff Johnson only made one appearance on KGW, whch was broadcast on a Saturday. This is a studio recording of part of that show which was probably aired on the 31st December 1983 broadcast, as he mentioned it was Christmastime.
72MB
31mins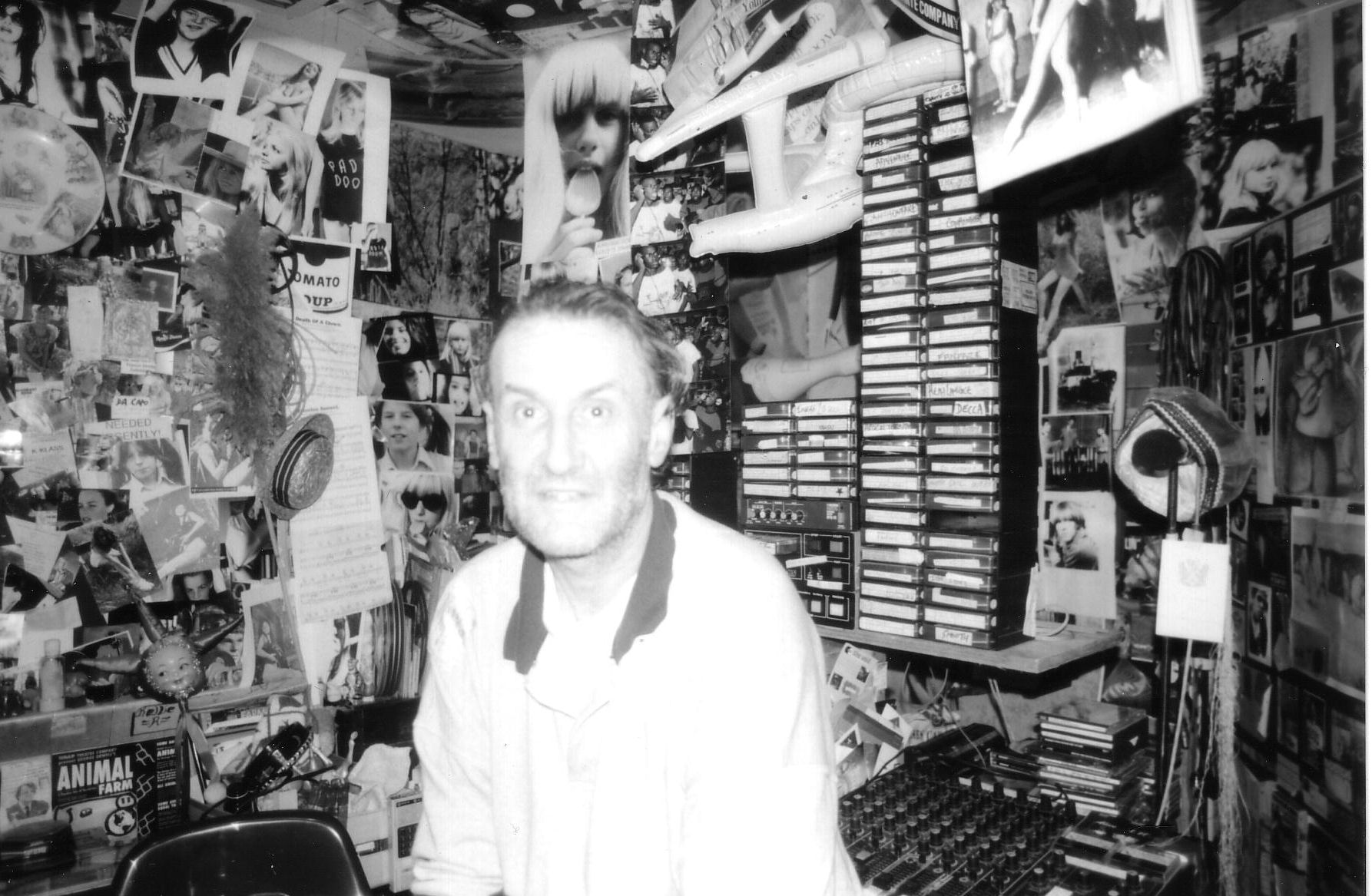 Henry in his home studio at 'Henderson Hall'.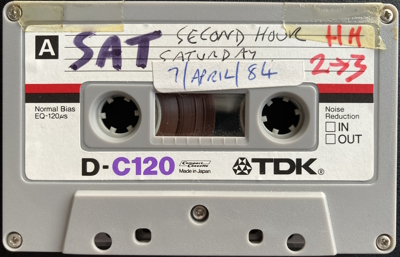 The original C120 cassette of Henry's 2nd hour ready for broadcast on 7th April 1984

It was during late April 1984 that Radio Nova, who were broadcasting on 819kHz in Dublin, whilst being jammed by RTE, added a second AM channel of 729kHz using 10kW. In mid-May it was moved slightly to 738kHz and by late May 1984 they had transferred their 50kW transmitter onto this channel which made it impossible for KGW to continue using it. KGW is only believed to have transmitted once after this, when after returning from holiday, Buzz Carter switched on the rig to re-broadcast a local rock concert from 'Holiday For Strings', unaware that Nova had moved their 50kW transmitter to this channel. There was a story circulating at the time, that Radio Nova owner Chris Cary was in Lancashire monitoring his new frequency, and thought someone was jamming his signal!!
During this period in early 1984, Dave Simpson had also started with some roadshows to promote local artists in conjunction with KGW, and initially with Buzz Carter's band 'Holiday For Strings' supporting. Henry did a promo for one of these gigs which can be heard below, as well as playing one of the bands demos in the above programme on 7th April.
1984_04_11_wed_kgw_hh_ds_roadshow_promo-ds.mp3 New Sep 2022
A studio recording of a promo made by Henry for the Dave Simpson roadshow with Buzz Carter's 'Holiday For Strings' which was for the evening of 11th April 1984 at Chaucer's in Hardman Street. The recording is courtesy of Dave Simpson.
1.25MB
32secs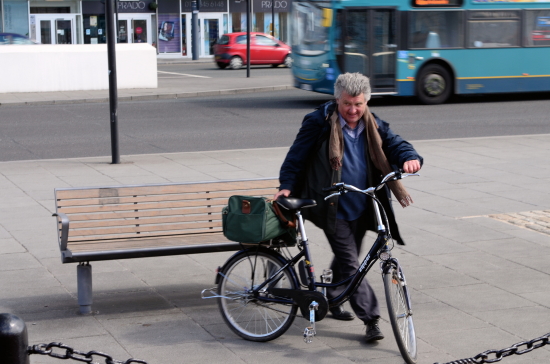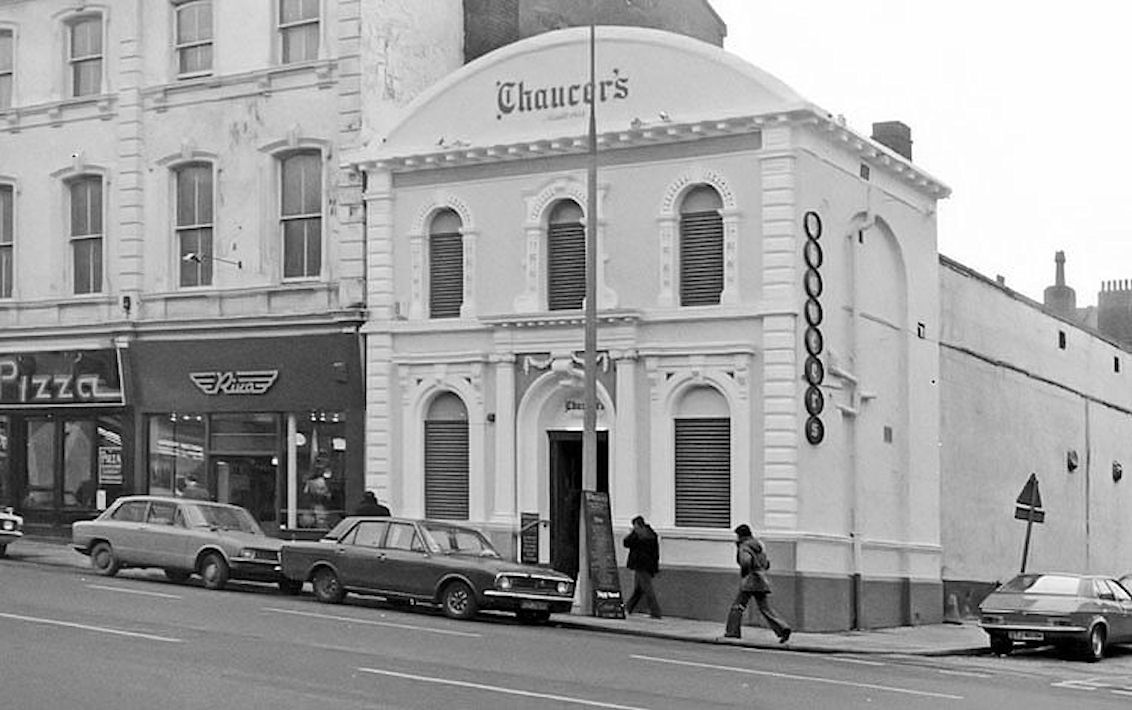 Buzz Carter of KGW and 'Holiday For Strings', in later years outside the historic Planet Light Ship LV23 at Canning Dock
before it was illegally towed away by the Canals and River Trust.
And right, 'Chaucer's' in Hardman Street as it was when Buzz and Dave Simpson were on stage with the roadshow.



Unfortunately KGW never returned to the air, which was a shame, as the programmes were very different to any that were being broadcast on other 'pirates' at the time. The transmitter was removed from the Kirkby flats during the Summer of 1984 and eventually donated to Weekend Music Radio in Scotland, where at the end of the 1980's with an improved modulator it was re-designed for use on shortwave to broadcast with 100 watts across Europe.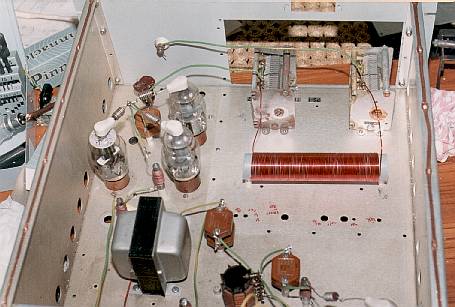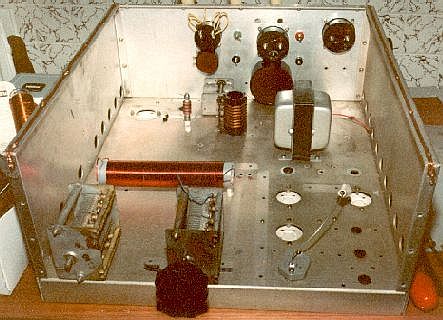 Two more views of the 738kHz rig.
Left, as it was being tested on dummy load, and right, during its construction.
Below shows the rear of the RF unit.