RADIO DUBLIN - WORLD MUSIC RADIO



ARCHIVES
WITHOUT CLUTTER

RADIO DUBLIN - INCHICORE
AM 1188kHz 1251kHz - FM - SW 48m and later 6910 ETC
========================================================================
Radio Dublin relayed the programmes of the former Dutch shortwave station World Music Radio for many years. Below are two QSL cards from the station from the 1188kHz outlet of Radio Dublin. The WMR programmes normally went out in the early hours of the morning on all the Radio Dublin channels.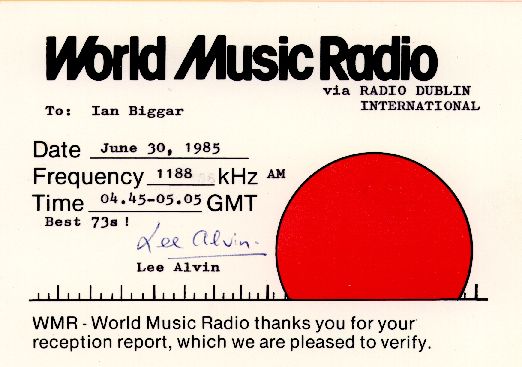 The card above was during the mid 1980's heyday of Irish Free Radio, whilst the card below was from a broadcast after the 1988 legislation had been introduced, when Radio Dublin was one of the few stations still broadcasting on medium wave.
In fact the 5kW Radio Dublin medium wave transmitter had been removed by the P & T during a raid in February 1989. The QSL below was actually for a smaller transmitter, possibly around 1kW which had been acquired by the station some weeks after the raid. In between, the station operated either only on FM, or additionally on MW using a 40 watt transmitter supplied by Prince Terry of Westside Radio International.