WKRC - NEWBRIDGE



ARCHIVES
WITHOUT CLUTTER
WKRC - Newbridge, Co Kildare (1981 to 1982)
AM - 1250
========================================================

IRISH PIRATES A / Z

1981 VISIT TO WKRC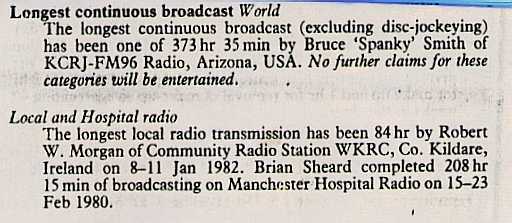 The Guinness book of records from 1983 about WKRC's record breaking long programme. A nice touch for one of the early Irish pirate stations to have made it to the Guinness book of Records!!
Robert W Morgan outside the caravan at WKRC, and right, Simon and Gary look into the studio / caravan.
The front of the WKRC house, where the aerial came down to almost head height, and right, Pat Martin in the WKRC studio on that Saturday night.
The house was near a road junction, and from memory, was near a smallish bridge as well?? It had been a very long time since that summer's night back in 1981, and the young lads who visited Ireland at that time have long since gone. At the time of writing, that summer's night was going on 30 years ago. I wonder if we would recognise the place again, if we could ever find it in the first place.
A very interesting thread on the Radiowaves forums comes up if you search google for WKRC Newbridge.
Front of the attractive ad rate card, on the left, and right, the not so attractive back side. This must surely have been for his own use, and not given out to customers like that??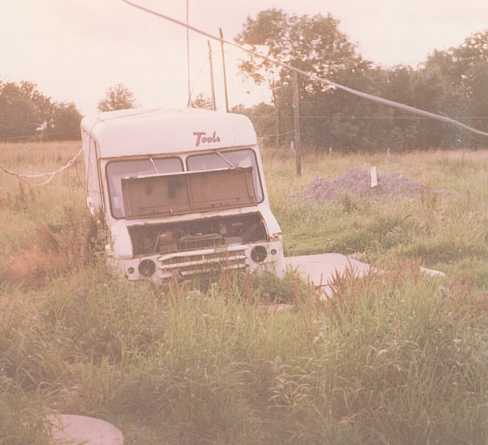 The transmitter room, where the alleged 10KW rig was!! O Yea?? The power was estimated to be the average kind of power for that time, around 300 watts, judging by the signal. As far as we know, this is the closest thing to a transmitter photo of WKRC in existence!!
========================================================

IRISH PIRATES A / Z