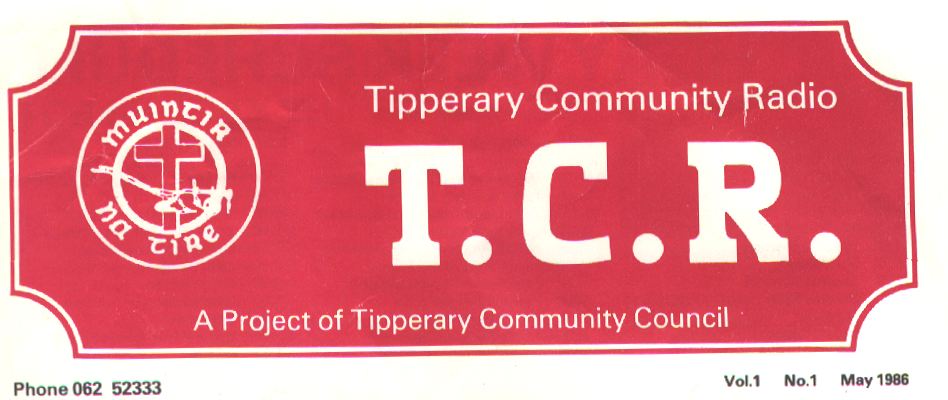 Tipperary Community Radio
Five Years Broadcasting
Phone O62 52333
Vol.1 No.1 May 1986
Tipperary Community Radio began broadcasting on the 29th of May 1981. At times it's hard to believe how time has moved on and how the station has developed, since Tim Ryan began broadcasting at 12 noon on that spring holiday weekend. One of the presenters on that first day was Tom Fitzgerald, who remembers just how brave were some of Tipperary's pioneers of broadcasting. 'People were shaking at the start and perspiration used to literally flow from them'. However, he remembers that there were some natural presenters who seemed to take it in their stride. They were the born performers who had no difficulty with the medium.
THE IDEA
The station began after a meeting with the Chamber of Commerce and other interested parties. Incredibly Tipperary Town had two small private stations operating and the Community Council was asked to bring all parties together to work out a solution to the problem. Obviously a town of Tipperary's size couldn't support both stations. It was decided at that fateful meeting that the Community Council as a body, would establish its' own radio station. The existing stations agreed to close down once T.C.R. began broadcasting.

BROADCASTING
It was a big step from that original decision to actually going on air. Kilkenny Community Radio gave the fledgling T.C.R. a VHF transmitter. That was all right, but to set up a more popular Medium Wave transmitter caused trouble and frustration. Simply, there was nobody qualified to give expert advice. The station persevered with a series of transmitters known as the 'terrible contraptions' until early 1982, when the late William Stapleton of Silverpine Studios in Bray was contacted for advice. He was a reliable expert who built a proper radio transmitter for about £3,000. Five years later it's still broadcasting.
In the early days there was no testing of presenters for suitability. The new broadcasters improved through experience and developed an individualistic approach to their own production. It was difficult to get qualified people to give training courses, as R.T.E. wouldn't allow any of its' personnel to become involved In fact, when one of T.C.R.'s presenters attended an R.T.E. run course, she was asked to leave. Despite this, the interest in the station has always been there and attracting people to become involved has never been a problem.
PROGRAMMING
As a prototype for community broadcasting in the country, T.C.R. had the extra responsibility of achieving the proper programme balance. Cost wise and work wise it would have been easy to play music all day, but from the very beginning emphasis was put on magazine and chat programmes. On the very first day, there were current affairs and sports programmes. By the end of the first year, the presenters were called together to elect a programming committee which was to review and plan programmes on a weekly basis. That committee and subsequent ones have developed many innovative programmes, including the series of Rural Roundabouts, where rural communities get the opportunity of having their own specialised programme. Also from the beginning T.C.R. has refused to pirate news from the national station. The daily bulletin concentrates on news from within our community.
PROBLEMS
Are there no problems you might inquire? Well indeed there are. One concerns the raising of standards and of presentation, as our presenters are not involved in a full-time capacity. Another is to maintain commercial viability because of rising costs. Equipment which has served us well since 1981 now needs to be replaced. For example, we would like to do more outside broadcasting. But it costs money. A considerable amount was done in the early days but it had to be discontinued because of the lack of suitable equipment. Quite honestly, other sources of income outside advertising will have to be found. This area is being explored at present.
TODAY
These problems and bigger ones have been tackled and surmounted in the past. T.C.R. has grown significantly in it's five years. It now employs three full-time and three part-time people. Over seventy-five voluntary presenters are involved and our record collection stands at around 1,500 singles and 600 LP's. More importantly, people have got enjoyment and service from the station, whether through broadcasting or listening. It has taken the mystique out of broadcasting. It has disproved R.T.E.'s claim that community stations would not last a year. It has proved that community broadcasting is here to stay. A point accepted by the Government and the E.E.C.
HAPPY BIRTHDAY T.C.R.