RADIO NORTH WEST - DRUMSHANBO



ARCHIVES
WITHOUT CLUTTER
RADIO NORTH WEST - Drumshanbo, Co Leitrim (1980 - 1981??)
1615v + Harmonics
========================================================

IRISH PIRATES A / Z

1981 VISIT TO RADIO NORTH WEST
RADIO NORTH WEST: This station used to be heard in the UK on the unlikely frequencies around 6460ish. The frequency used to vary and thus you could tell what the fundamental was that particular day. 6460 was a 4th harmonic of 1615, but if the fundamental drifted to 1620, the harmonic would have moved 20kHz!!
Inside the Radio North West studio. These are the only photographs I know of from this station. Radio North West had their "dodgy" transmitter in the old caravan, and the studio in the lorry container. This was another station that the guys weren't happy showing us their transmitter, despite it being close by.
Other stations that were dodgy about showing us their transmitters included WKRC in Newbridge, KCR Naas, Radio City Dublin, Sunshine Radio, Radio Dublin, TTTR, Nova. The DCR transmitter was there in the little shed in Lower Grand Canal Street, but the lads didn't want us to take photos of it.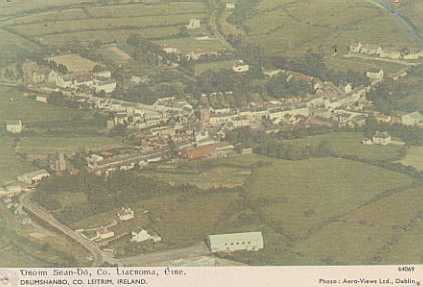 A postcard from Drumshanbo, showing a very small village.

========================================================

IRISH PIRATES A / Z