KISS RADIO - FOLEY STREET, DUBLIN

94.8MHz - 95.3MHz - 103.7MHz - 104.1MHz - 104.2MHz - 105.2MHz
1116kHz
(1985-1986)

========================================================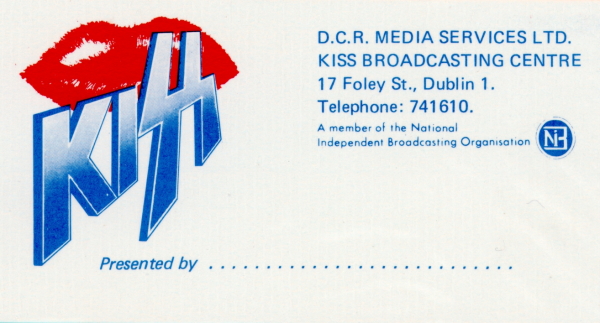 KISS Radio began operations in the Summer of 1985 and broadcast daily until they were raided on 3rd October 1986. They were reported as being back on the air on low power shortly afterwards, so the exact date of their final broadcast is not known. It appeared to have no connection with two previous versions of KISS FM which operated in Dublin. (KISS 102.7 in 1982-84 and KISS AM FM in late 1984). They initially advertised as being on 105MHz and 1116kHz, but the main FM frequency was moved several times to find a suitable channel. At one point they were on 103.7MHz, but had to move when Q102 came back on 103.5MHz, ad eventually settled on 104.1MHz. They also had a second FM frequency around 94-95MHz which served the city centre, normally on 94.8MHz.
Two early advertisement from the Sunday World. We are not sure of the date
of the one on the left promoting just 105MHz, but the right is from 12th October 1985
which changed to promoting two FM frequencies of 104.1MHz and 98.4MHz,
as well as medium wave 1116kHz.
(98.4MHz is possibly a mistake on the advert and should maybe have read 94.8MHz.)
In mid October 1985 the station was monitored on 95.3MHz and 104.2MHz.
Below is what we think is an early flyer from 1985 promoting 95FM and 105FM
and right, an advertising contract which includes the rates at the time.
(Click on images for higher resolution.)
KISS Radio Audio Library
A nice letter received by Ian in April 1986 with some technical information on KISS Radio, and
which also suggested that they used to be called Dublin Community Radio.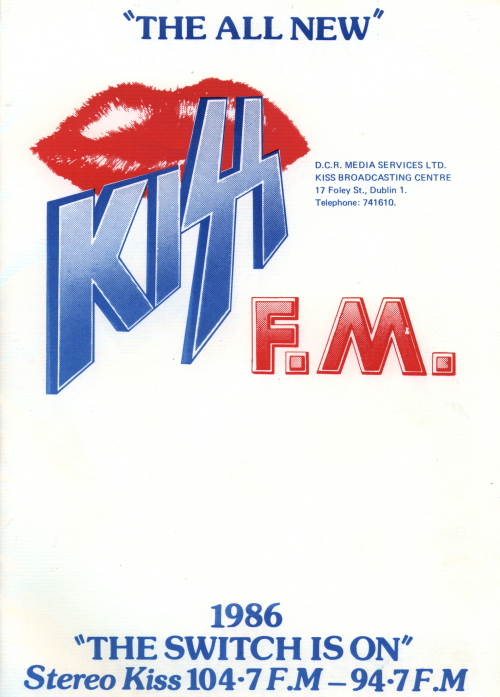 Three of the newspaper articles reporting the raid on KISS on Friday 3rd October 1986.
Irish Press, Irish Times and Irish Independent respectively and all from Saturday 4th October 1986.
===================================================================

IRISH PIRATES A / Z