KISS AM / FM



ARCHIVES
WITHOUT CLUTTER
KISS AM / FM - Dublin (1984)
101.9MHz
1116kHz - 1134kHz
========================================================

IRISH PIRATES A / Z

This station was only really heard in a kind of a test mode, beginning in September 1984, and was said to be the forerunner of Q102. The two parallel transmitters on 1116kHz and 1134kHz were believed to also be the pair that relayed the Dave Reddy / David Baker community stations such as Radio Sandymount, Radio Ringsend, Radio Donnybrook, CBC, and one day even Radio Galaxy. The more powerful was thought to be Joe Jackson's ex Sonic transmitter. By mid-October 1984 the station was being advertised as KISS AM and FM, giving an address in Parnell Square and following a station launch at 'Scruffy Murphys', regular programmes supposedly commenced. However these programmes still sounded like 'tests', being advertised as the KISS Computer Network, and with a non-stop music format with commercials and the occasional 'live' announcements. It is not known when the station made its last broadcast, but by 12th November the AM relays seemed to have vanished and towards the end of November 1984 reports were circulating that the station would no longer be going ahead. At the time Doctor Don, Michael Tiernan and Lawrence John were reportedly involved in the station.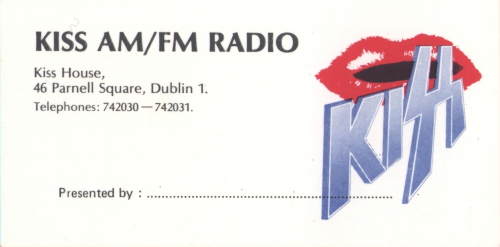 KISS AM / FM Audio Library


1984_10_25_thu_kiss_parnellsquare_1019fm_1012-1100-ai1544_via_ib.mp3 New Dec 2022
Late Thursday morning programming from 25th October 1984 with what seems like a continuous music format station. The station did seem to have a reasonable number of commercials. Recorded in Dublin from 101.9MHz in mono, despite the old KISS 102.7 jingles.
64MB
46mins
1984_10_25_thu_kiss_parnellsquare_1019fm_1156-1244-ai1544_via_ib.mp3 New Dec 2022
More from the above morning / lunchtime programming with music, adverts and a sales staff promo for the 'KISS Computer Network'. Another station promotion was for a 'KISS Musical Love Letter Contest', and there are the odd 'live' timechecks which suggests there was actually a deejay in the studio dealing with all the music and adverts. Recorded in Dublin from 101.9MHz in mono.
64MB
46mins
1984_11_11_sun_kiss_parnellsquare_1134am_1415-1500_test_lj_c90_1042-kb.mp3 New Jan 2023
Despite full programming supposedly commencing the previous month, this was a test transmission with recorded announcements from Lawrence John giving 1116AM and 100FM as the station frequencies, but actually recorded from 1134kHz in Scotland. The telephone number announced is different from the business card. It is believed there were no further broadcasts. The signal starts off reasonably clear, but then winter foreign interference comes in towards the end.
34MB
47mins
| | |
| --- | --- |
| | |
Photos taken during a visit on Thursday 1st November 1984 with David Baker, show the studio was still under construction.
And below, a rather poor photo of the mast atop the building in Parnell Square.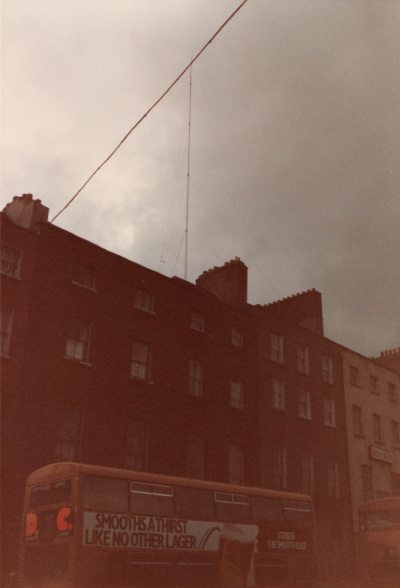 ===================================================================

IRISH PIRATES A / Z