KILKENNY COMMUNITY RADIO



ARCHIVES
WITHOUT CLUTTER
KILKENNY COMMUNITY RADIO (1981)
1386 - 1395
========================================================

IRISH PIRATES A / Z

1981 VISIT TO KCR
KILKENNY COMMUNITY RADIO 1981 booklet (14,420 pdf)

KILKENNY COMMUNITY RADIO was often heard outside Ireland on their busy 1386kHz frequency. In latter days, they had a new transmitter, and changed to 1395.
KCR is another station who's images will be sorted out and uprated from the poor quality scans of the 90's, once the site navigation job is complete.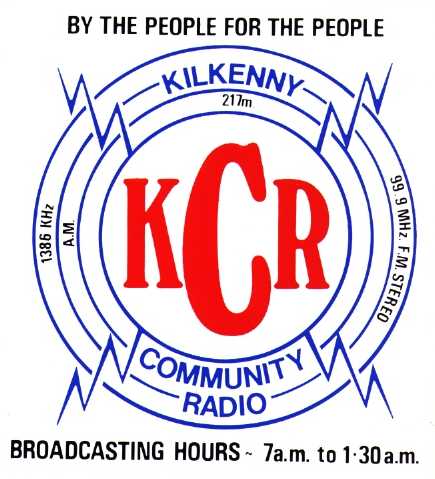 KILKENNY COMMUNITY RADIO building and heavy steel door. The KCR truck is seen parked in the yard.
KILKENNY COMMUNITY RADIO studio and transmitter, 1981. This was the MW transmitter from 1386kHz, which often made it to Scotland and further afield. The transmitter in 1986 was in a kind of porch type place by this time, and not in the loft.
KILKENNY COMMUNITY RADIO mobile roadshow!!!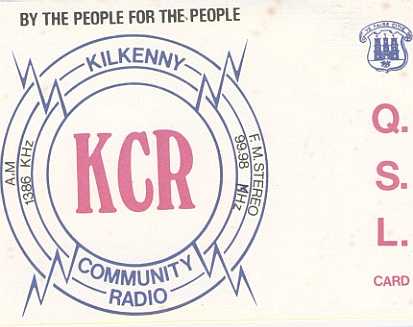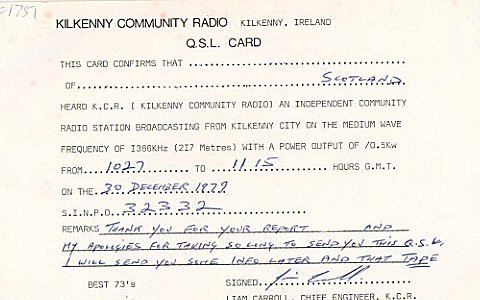 ========================================================

IRISH PIRATES A / Z